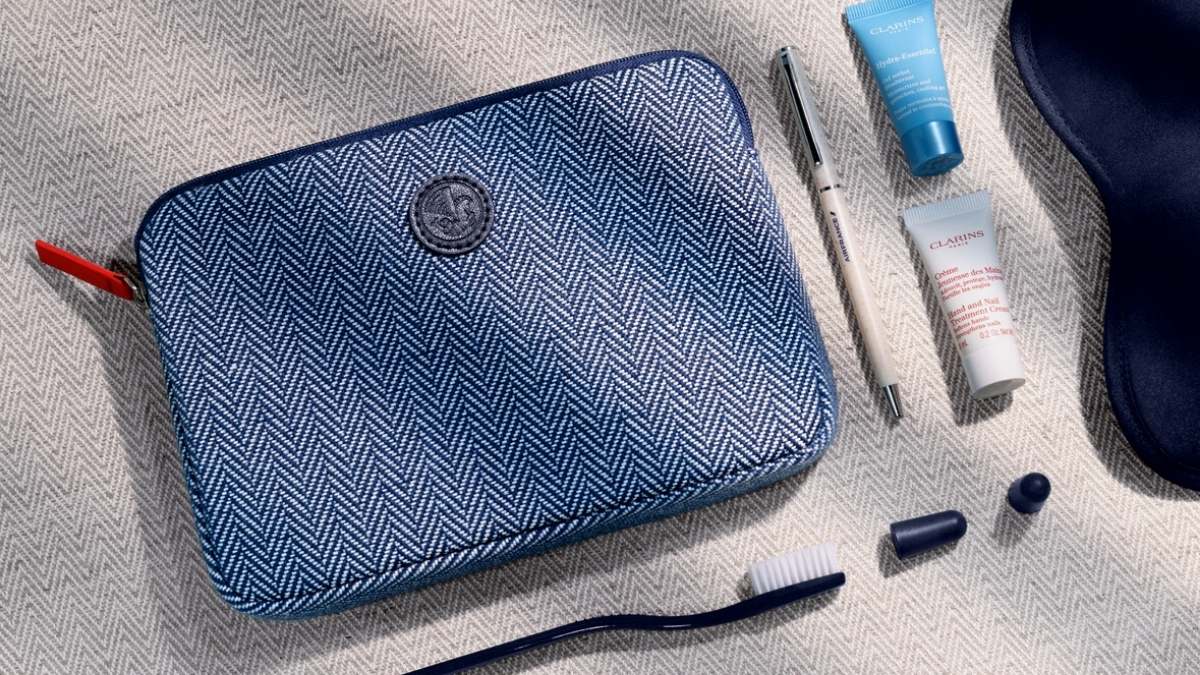 New collection of comfort kits on long-haul flights
On its long-haul flights, in the Business and Premium Economy cabins, Air France now offers a new collection of comfort kits. Developed with an eco-friendly approach and designed as genuine gifts, they can be kept, collected and reused after the flight.
Elegant and functional, these new kits will be available on board for an 18-month period. Their content will be renewed during this time to continue to offer ever more eco-responsible accessories and surprise frequent travellers.
The new Business kit features a stylish herringbone pattern and is available in two colours, navy blue and beige. It also features the winged seahorse, the airline's historic emblem embodying its rich history. The Air France red zipper pull reminds us of the accent, the company's brand symbol. This kit is made of 96% recycled material. Particular attention has also been paid to its contents:
A toothbrush and a pen made from maize straw, as well as earplugs wrapped in kraft paper to avoid using plastic on board; For added comfort during the trip, a large, soft sleeping mask, a pair of socks and a tube of toothpaste; Two cosmetic products from our Air France partner Clarins: the rejuvenating hand cream and the Hydra-essentiel moisturising cooling face gel (travel size).
In the Premium Economy cabin, the new kit features the airline's signature stripy motif. There are two models available with a mix of deep blue and wide white stripes. Once again, the red zipper pull reminds us of the airline's signature accent. The kit is made of 89% recycled material. It contains a toothbrush made from maize straw, a tube of toothpaste, ear plugs wrapped in kraft paper, as well as a pair of socks and a night mask.
In all cabins, each kit's plastic packaging has been replaced by an integrity seal. In addition, the systematic cleaning and disinfection of headphones has enabled Air France to do away with the single-use earphone covers that were previously offered, as well as their packaging.
By offering ever more eco-friendly kits, Air France is continuing its daily actions to limit the use of single-use plastic on board its flights whenever possible.