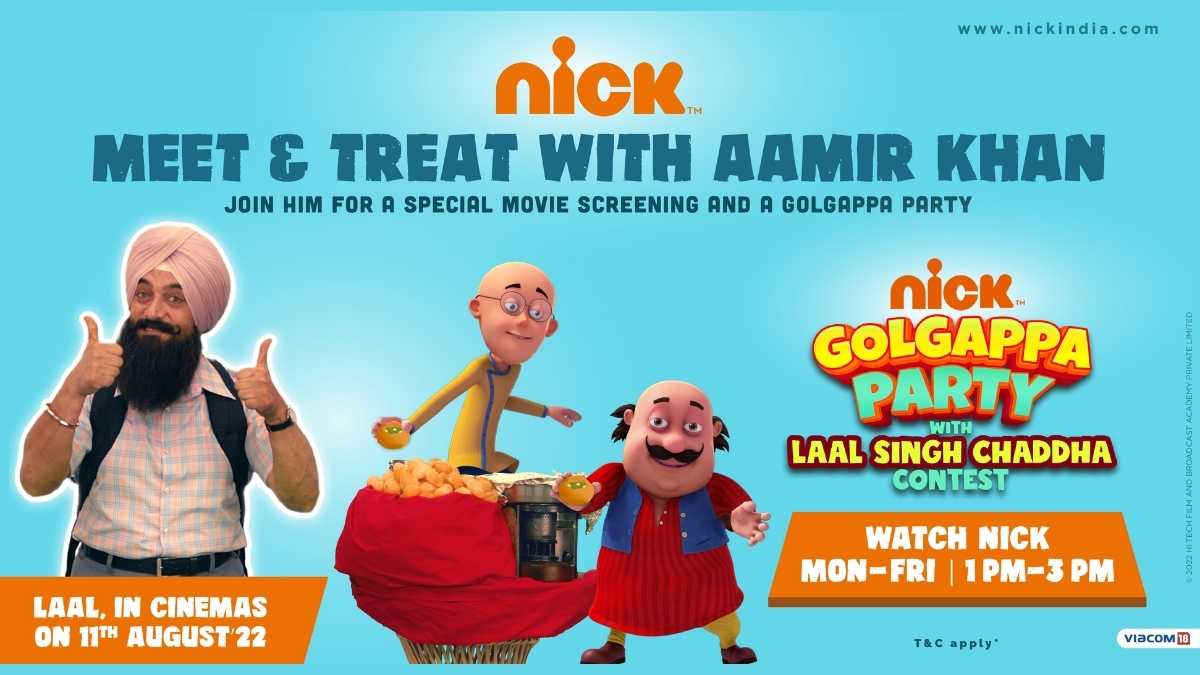 Nickelodeon joins forces with Laal Singh Chaddha
Viacom18's leading kids' entertainment franchise, Nickelodeon continues to raise the bar while engaging with its young and discerning viewers. Elevating excitement levels for families across India, Nickelodeon, joins forces with Viacom18 Studios and Aamir Khan's family entertainer Laal Singh Chaddha. The film is the endearing story of the determined Laal Singh Chaddha who like our Nicktoons Motu Patlu and Bhoot Bandhus, through innocence and strength of character, overcomes all obstacles.
The collaboration has Nickelodeon raise existing fervor for Laal Singh Chaddha with unmatched and interactive initiatives that will provide entertainment and fun experiences for families to enjoy together. The month-long integrated campaign will showcase Aamir Khan in his Laal Singh avatar having a fun time with India's favorite Nicktoons including Motu, Patlu, and Pinaki & Happy – The Bhoot Bandhus.
With ideas that build resonance with the character of Laal who has childlike innocence and honesty much like Nickelodeon's young viewers and Nicktoons, the deep integrations will witness Laal immerse himself in the world of Nicktoons seamlessly. Through Nick's Golgappa Party contest and Sonic's Bhaag Laal Bhaag contest, kids will also get a chance to meet megastar Aamir Khan in addition to winning a host of exciting prizes by simply participating in the on-air contests.
Nickelodeon has also left no stone unturned to reach out to its young viewers with fun contests like the Chaddi Buddy Contest with Aamir. Finally adding to the endless excitement is an innovative virtual running game that is sure to drive conversations while keeping kids on their toes. The virtual game allows one to play as Laal, Motu, or Patlu to chase the feather and collect coins along the way while chasing away evil.
Speaking about the collaboration with Laal Singh Chaddha, Nina Elavia Jaipuria, Head – Hindi Mass Entertainment & Kids TV Network at Viacom18 said, "We are delighted to collaborate with Laal Singh Chaddha on this highly interactive and engaging campaign that will give kids and their families an opportunity to be a part of the film and celebrate the character of Laal along with their favorite Nicktoons. At Nickelodeon, each collaboration and partnership that we innovate for, have kids at the heart of it and this partnership with the adorable character of Laal is sure to strike a chord and provide many priceless moments. We look forward to further collaborating with brands and films to create deep and meaningful integrations for our young viewers."
Speaking about reaching out to kids with this family entertainer and on the association with Nickelodeon superstar Aamir Khan said, "Laal Singh Chadha is an inspiring film and the innocence and honesty of the affable character of Laal is sure to strike a chord with kids and families. This massively interesting and fun collaboration with Nickelodeon and its characters who embody the same positive traits as Laal was hence a great way for us to together take the story of Laal Singh Chaddha and make it a part of every child's life along with their favorite characters. We are sure that kids will have a great time watching our labor of love with their families and look forward to the same."
On the collaboration with Nickelodeon, Ajit Andhare, COO, Viacom18 Studios, said "The advantage at Viacom18 is the opportunities and ability we have to collaborate with the powerhouse brands in our platoon. Right from bringing the Paramount story to India under our banner to partnering with Nickelodeon, we have had seamless associations on the film. A family entertainer at its heart, we are looking forward to kids enjoying the film as much as adults, as they will resonate with the pure and simple soul of Laal Singh."
In addition to the tentpole campaign IPs and contests, Laal Singh Chaddha break bumpers will also run across key shows on Nick and Sonic. The campaign also extends to the Nickelodeon franchise's social media channels and other digital media platforms with innovative posts and stories and influencer outreach. We are sure the adventures of Nicktoons and Laal Singh Chadha will entertain families this Independence Day weekend.